winning lotto syndicates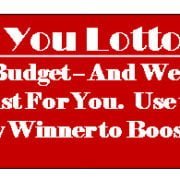 Are there really Winning Lotto Secrets? WHY should you listen to me?
I think there are two things you should look for on any website that promises winning Lotto secrets.
Do they win the lottery regularly, and
 Have they won big?
To answer question one, if you check out our page on how we won the lottery six weeks out of 10, you will see regular small wins that enabled us to play a lotto at a discount of almost 40%. We back this up with screenshots of the actual lottery tickets.
And to answer question two, you would have seen on the front page of this website our three first prize wins.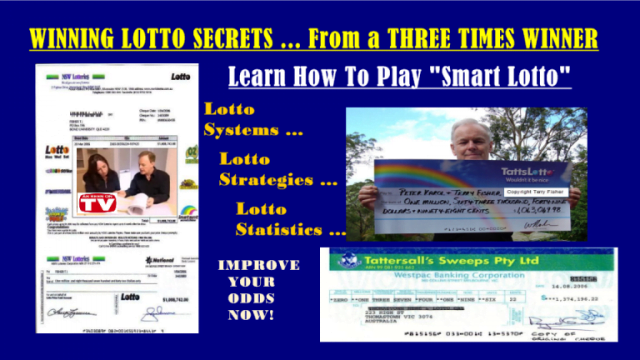 However, there is a third, much bigger, secret – Winning Lotto Syndicates.
All three of our first prizes have been won using a Lotto syndicates, or as they are known in some parts, Lotto Clubs.
As with most things in life cooperating with others in a joint effort makes a massive difference.
If you consider what you can afford for your lotto budget, and then multiply it by 20, you now have a much larger kitty to play a highly organised entry – and in some cases, this can indeed guarantee a win of some kind, though not necessarily first prize.
One of our lottery syndicates has won a prize of some kind every Australian Saturday Superdraw since 1999. The secret of this entry is a sophisticated mathematical Matrix that guarantees at least four of the winning numbers, leaving us to rely on Lady luck for the remaining two numbers instead of all six.
We call this entry the "Must Win Lotto Syndicate,"  because it simply has to win at least a four number prize.
The other type of winning lotto syndicates that we create are called "Guaranteed Winning Lotto Numbers Syndicates." To explain this, we will use our Australian 45 ball lottery as an example. If we play five different sets of System 9's, that include all 45 numbers, then we must have all the winning numbers spread over five sets of System 9's.
This may or may not win, but it starts from a position of having all the winning numbers somewhere in our overall entry. By using system entries, this approach guarantees multiple prizes if enough winning numbers are within one of the system 9's.
If you need help with your lotto syndicates, we can help you by creating either Guaranteed Winning Lotto Numbers Syndicates or a Must Win Lotto Syndicate for you.
There is no cost for this, because we operate on a payment by results basis. If you would like help in putting together a syndicate entry that significantly improves your chances, we ask for 5% of all winnings, allowing you to distribute 95% of the winnings against all of your other syndicate members; effectively we become one of your syndicate members.
We use sophisticated software, along with 20 years of experience, including writing the bestselling books "1000 weeks of Lotto" and "Winning Lotto Secrets" – in addition of course to winning the lottery First Prize three times ourselves.
The question is, are you going to keep putting up with your existing entry if it hardly ever brings any return, or are you going to be happy with 95% of your winnings from a system design by a Three-Time Lottery Winner who can also demonstrate regular lotto wins?
To qualify for this offer, you MUST have an EXISTING Lotto Syndicate / Lotto Club.  If you wish to play as an individual, please check out "How I  Won the Lottery 6 Weeks out of 10" by clicking the preceding link.

If you would like us to help you, simply send an e-mail to terry.aust@gmail.com, telling us whether you prefer Guaranteed Winning Lotto Numbers Syndicates or a Must Win Lotto Syndicate, your  lotto budget per draw, and how many Members in your EXISTING Lotto Syndicate.